STRMN Shih Tzu Rescue of Minnesota
Rescue, Rehabilitate, Rehome
For More Event info,
visit our Events Page

Your donation will help
STRMN rescue a Shih Tzu
in need. You may make a
tax deductable donation to
STRMN at P.O. Box 46562,
Eden Prairie, MN 55344

or through our secure Paypal account.
(You do not have to have a Paypal account to make a donation)
Shih Tzu Rescue Of Minnesota
P.O. Box 46562
Eden Prairie, MN 55344
www.shihtzurescuemn.org



Follow us on
Facebook


Meet and Greet
our Available Dogs
Minnetonka Petco


First Saturday of every month

10:00 am to 1:00 pm

THIS IS A MEET & GREET ONLY. WE DO NOT ADOPT OUT DIRECTLY FROM THIS EVENT.

CLICK HERE to review our Adoption Process.

Store Address and
Directions
Click HERE
CELEBRATING 10 YEARS
IN RESCUE!
CELEBRATING 10 YEARS
IN RESCUE!
This site has been visited 93662 times!
Who We Are
Shih Tzu Rescue of Minnesota (STRMN) is an all volunteer organization with a mission to Rescue, Rehabilitate, and Re-Home Shih Tzus and Shih Tzu mixes who are in need of loving homes. We believe every dog should have a second chance, and should be treated as a living creature with respect, dignity and compassion. While our volunteers are located in Minnesota, we are committed to rescuing Shih Tzus from other states as well. As long as we have an available foster home, we will rescue and care for another Shih Tzu. STRMN is a 501c3 charitable, non profit organization. All donations to STRMN are tax deductable and 100% of donations go toward the care and comfort of our rescued dogs.
Where do our dogs come from?
Our rescued dogs come from a number of places and situations: owner turn-ins, strays, shelters, puppy mills and some from retired breeders. Regardless of where the dogs have originated, they are given love, kindness and attention in our foster homes and provided full medical care. Shih Tzu Rescue of Minnesota has high standards for the quality of care provided for our dogs, both in foster care and in their forever adopted homes.
How can I help?
The strength and success of Shih Tzu Rescue of Minnesota is in our volunteers. Each volunteer brings their skills, talents and expertise to our organization. We work closely with our volunteer foster families in an effort to guarantee a successful experience for all. Throughout the year we plan a number of social activities, hold quarterly membership meetings, fund raising events, and our annual STRMN Rescue Reunion each September.

There is always a dog needing to come in to rescue and a foster home. We very much need more homes so we do not have to turn away any dogs. If you have space in your home, and love in your heart for a Shih Tzu or Shih Tzu mix, we want to talk with you! Please also read "Why Become a Foster Parent?" written by one of our foster moms who especially cares for puppy mill dogs. STRMN will cover all necessary veterinary care at pre-approved veterinary clinics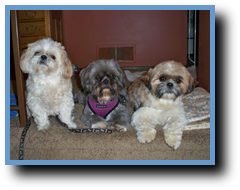 How can I learn more?
We welcome and encourage individuals and volunteers to visit the rest of our website and consider becoming a volunteer with Shih Tzu Rescue of Minnesota (STRMN). Click HERE to learn more about Volunteering for STRMN.

We appreciate your interest and future support.
Copyright © 2008-2018

STRMN Shih Tzu Rescue of Minnesota

All Rights Reserved

Website Developed and Maintained by Website to the Rescue
Find out more about this wonderful breed
~ Click HERE
~
Featured Shih Tzu
"Max"
This breed is more closely related to the wolf than any other breeds.
Whether a star in the ring or at home, the Shih Tzu is one of the oldest breeds of dog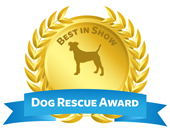 Dear Shih Tzu Rescue of Minnesota,
We at DogBreedsInfo.org are pleased to present you with a Dog Rescue Award for excellence in providing underprivileged dogs a much valued resource. We take pride in acknowledging the best organizations around the country with our special award emblem, recognizing them for their outstanding work - Shih Tzu Rescue of Minnesota certainly qualifies as one of them.

Thank you for all the work you and your organization provides for dogs in need. We wish you the best in continuing your highly valued service. DogBreedsInfo have recognized your dedication to dogs and your willingness to help them out. And if anything deserves an award, wouldn't that be it?
Max is a sweet, 6 or7 year old southern boy who has a big, loving heart despite the challenges he's had in life. Max came to our rescue from Texas in September 2017, after Hurricane Harvey. When the hurricane hit, the shelters had to move their existing pets elsewhere to make room for the large numbers of lost and stray pets that would be coming. When Max arrived in Minnesota, we knew right away that something was wrong with his eyes, but we weren't sure what.


~ Read More ~
Foster A
Shih Tzu

At any Petco event,
ask us about
fostering! Pick up our
information packet
and let's talk about
the details and
rewards of being a
foster home. Get your
questions answered.
There will be foster
families available to
share their insights
and experiences.

We have a wonderful dog waiting just for you!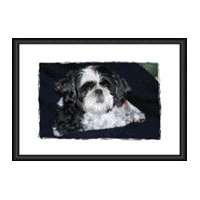 Many online retailers participate in iGive. When you visit a participating online store, you will see a button that says "iGive ON". You can see that store's deals by clicking the button. When you make a purchase, a portion of your purchase goes to your cause. It never costs more, the stores pay for it, and iGive takes care of all the details. Initially just log on to www.iGive.com and select Shih Tzu Rescue of Minnesota from the dropdown as the cause you wish to receive the donation. Then make your online purchase with the retailer. iGive will even let you know when they have sent a check to STRMN.
Also, another way to financially support STRMN is to think about including Shih Tzu Rescue of Minnesota as a possible beneficiary in your estate planning. Our rescued dogs will always need vetting, our greatest expense.

Thank you to the Petco Foundation for their generous grant this spring. Thanks to your help, we'll be able to afford more veterinary care for more dogs. The animals thank you, too!
Our Rescued Shih Tzus
Click on these photos to visit
them in our Photo Album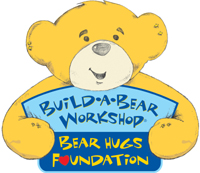 The Shih Tzu Rescue Of Minnesota
would like to say
THANK YOU
to
Build-A-Bear Workshop Bear Hugs Foundation
for the
Generous Grant they have given us to help us increase the number of dogs we rescue and be able to take in more of the medically needy.

The Build-A-Bear Workshop Bear Hugs Foundation is committed to making life more bearable for children, families and pets, in need of a helping paw. With the sale of each full-sized Bearemy's Kennel Pals® friend -- a collection of Build A Bear Workshop® plush dogs -- one dollar is donated to domestic pet programs including local animal shelters, stray pet rescue and rehabilitation organizations, and pet education programs around the country. These funds are available to qualified non-profit organizations in the United States and Canada
The Shih Tzu Rescue of Minnesota
would like to say THANK YOU
To the ASPCA
for the Generous Grant they have given for our
North Dakota Puppy Mill Dogs Veterinary Costs